Introduction How to Get Started with Private Label Cosmetics
In today's competitive beauty industry, creating a unique brand with high-quality products is crucial for success. Private label cosmetics have gained immense popularity as they offer businesses an opportunity to develop their own brand without the complexities of product development. MetaCNBeauty, a leading cosmetics manufacturer, specializes in private label solutions, empowering entrepreneurs to build their beauty empires with ease. This article will guide you through the process of get started with private label cosmetics MetaCNBeauty in 2023.
Understanding Private Label Cosmetics
Private label cosmetics refer to products manufactured by one company (MetaCNBeauty) and sold under another company's brand name. In this partnership, entrepreneurs can customize the product, design, and packaging to establish a unique identity for their brand.
Advantages of Private Label Cosmetics
Private label cosmetics offer several advantages:
Speed to Market: Private label products allow you to launch your brand quickly without investing time in extensive product development.
Cost-Effective: Developing your own cosmetic formula can be expensive, while private label cosmetics save costs on research and development.
Quality Control: Partnering with MetaCNBeauty ensures consistent quality and compliance with industry standards.
Focus on Branding: With private label cosmetics, you can concentrate on marketing and building your brand.
6 steps on get started with private label cosmetics in 2023
Do adequate research. This includes researching the cosmetics industry, your target market, and your competition. You need to understand the market landscape and what your customers are looking for in a cosmetic brand.
Define your niche. What type of cosmetics do you want to sell? What is your unique selling proposition? Once you know your niche, you can start to develop your brand identity and marketing strategy.
Financial planning. Starting a cosmetics business requires a significant investment of time and money. You need to create a business plan that outlines your goals, strategies, and financial projections.
Find a private label cosmetics supplier. A private label cosmetics supplier will manufacture your products and package them according to your specifications. You need to find a supplier that has a good reputation, a wide range of products, and competitive prices.
Create your brand. Your brand is what will set you apart from your competition. It includes your logo, packaging, website, and marketing materials. You need to create a brand that is consistent with your target market and your unique selling proposition.
Market your brand. Once you have your products and your brand, you need to start marketing your business. This includes creating a website, developing a social media strategy, and running advertising campaigns.
The cost of get started with private label cosmetics business will vary depending on the size of your business and the products you sell. However, you can expect to invest between 1k-20k USD in initial costs. This includes the cost of product development, packaging, marketing, and inventory.
Here are some additional tips for get started private label cosmetics business :
Get a trademark for your brand: This will help protect your intellectual property.
Join a trade association: This can help you connect with other cosmetics businesses and learn about the latest trends in the industry.
Attend industry events: This is a great way to network with other cosmetics businesses and learn about new products and trends.
Get feedback from your customers:This will help you improve your products and marketing strategies.
Focus on quality: Your products need to be of the highest quality to compete in today's market.
Be creative:The cosmetics industry is constantly evolving, so you need to be creative with your product line and marketing strategy.
Be patient: It takes time to build a successful cosmetics business. Don't expect to become an overnight success.
Starting a private label cosmetics business can be a challenging but rewarding experience. By following these steps, you can increase your chances of success.
Company Overview
MetaCNBeauty is a reputable cosmetics manufacturer known for its commitment to innovation and excellence. With state-of-the-art facilities and a team of experts, they excel in creating high-quality products that meet diverse beauty needs.
Commitment to Quality
MetaCNBeauty places a strong emphasis on quality control at every stage of production. They source premium ingredients, use advanced technology, and follow strict quality assurance protocols to deliver exceptional products.
Step 1 Browse & Connect
Look through the website and see the extensive range of product categories we offer. Then reach out via email or phone to get paired with your account manager to guide you through this process!
Metacnbeauty private label cosmetics wide range of options screenshot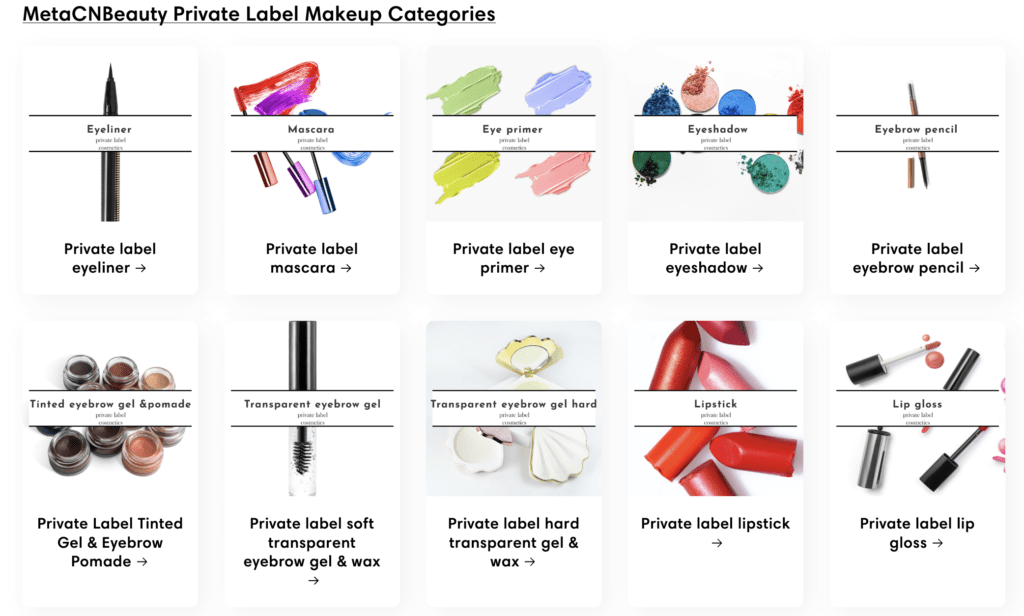 Step 2 Order Samples
We want to make sure you experience our products on your own skin and that you love the formulas and shades. Start by looking through our sample catalogs then place a sample order.
Step 3 Place Your First Order
Now that you know what products you want in your brand. Place your first private label order! Choose quantities, packaging style, ink color and finalize your purchase.
To place a printed order, please contact your account manager. They will guide you through the following steps:
Select any combination of cosmetic products that have the same packaging style.
To print your logo, there is a minimum order quantity of 100 pieces .
Step 4 Now Send Us Your Logo
Send us your logo and we will send you a digital mock up for you to approve. Once approved, your order will automatically be sent to production.
Our preferred file formats are: Adobe Illustrator CC and vector files. However High quality PNG or JPG will be accepted on a case by case basis ( with a minimum of 600 dpi).
Once payment has been submitted, you will receive a digital mockup on each component in your order via email for your approval. We require authorization before we can proceed with printing your order. Once we receive your approval we will begin printing your order. Any change to your artwork or logo positioning after your plates have been approved by you will result in additional plate charges.
Costs
A one-time fee of $100 for each printing plate per packaging style
Set Up
Charge: $45 per packaging style for orders printing less than 200 pieces
Printing fee to stamp each piece: $0.40 per unit
Custom Logo Colors: $100 per order
Step 5 Production
We will take it from here! We will process your order, manufacture the products, and print your logo.
Step 6 Launch Your Brand
We will ship your merchandise and you will be ready to start retailing your line and making a profit!
Benefits of Partnering with MetaCNBeauty
Extensive Product Range
MetaCNBeauty offers an extensive selection of cosmetic products, making it easy for entrepreneurs to find the perfect fit for their brand.
Low Minimum Order Quantities (MOQs)
With low MOQs, you can start with a smaller inventory and scale up as your business grows.
Fast Turnaround Time
MetaCNBeauty's efficient production process ensures quick turnaround times, allowing you to stay ahead in a rapidly changing market.
Quality Control and Testing
MetaCNBeauty conducts rigorous testing to ensure product safety and quality, gaining consumer trust and loyalty.
Building Your Brand with MetaCNBeauty
Customization and Personalization
Customize products with unique ingredients, scents, and formulations, tailored to meet the specific needs of your target audience.
Marketing and Promotion
Leverage MetaCNBeauty's expertise to develop effective marketing strategies and promote your brand through various channels.
The Future of Private Label Cosmetics with MetaCNBeauty
As the beauty industry evolves, MetaCNBeauty continues to innovate and expand its product offerings, providing entrepreneurs with cutting-edge solutions to thrive in the market.
Conclusion
Partnering with MetaCNBeauty for private label cosmetics is a game-changer for aspiring beauty entrepreneurs. From a wide range of products to personalized branding and exceptional quality, MetaCNBeauty empowers you to create a successful beauty brand in 2023 and beyond.
FAQs
1. What are private label cosmetics?
Private label cosmetics are products manufactured by one company and sold under another company's brand name.
2. Why should I choose MetaCNBeauty for private label cosmetics?
MetaCNBeauty offers high-quality products, low MOQs, fast turnaround times, and extensive customization options, making it an ideal partner for your beauty brand.
3. How long does the private label process take with MetaCNBeauty?
The timeline varies based on product complexity and design, but MetaCNBeauty strives to deliver efficiently to meet market demands.
4. Can I test the products before placing a bulk order?
Yes, MetaCNBeauty offers sample orders, allowing you to test the products and ensure they align with your brand's vision.
5. What additional services does MetaCNBeauty provide apart from manufacturing?
MetaCNBeauty offers design support, labeling services, and marketing assistance to help you build a strong brand presence.
6 steps on get started with private label cosmetics
Step 1
BROWSE&CONNECT
Step 2
ORDER SAMPLES
Step 3
PLACE YOUR FIRST ORDER
Step 4
NOW SEND US YOUR LOGO
Step 5
PRODUCTION
Step 6
LAUNCH YOUR BRAND