The Top Cosmetic Private Label Manufacturers
Are you considering starting your own beauty brand but don't know where to begin? Look no further! In this article, we will introduce you to MetaCNBeauty Cosmetic Private Label Manufacturers , one of the leading cosmetic private label manufacturers in the industry. Whether you're a skincare enthusiast, a makeup lover, or an aspiring entrepreneur, MetaCNBeauty is here to help you bring your beauty vision to life. With our extensive range of high-quality products and customizable options, you'll have everything you need to create a successful beauty brand.
Table of Contents
Private label cosmetics is a business model where a private label cosmetics factory, also known as Cosmetic Private Label Manufacturers, primarily caters to companies or enterprises that lack production capacity but have a demand for cosmetic products. These potential clients encompass a range of industries, including Beauty Brands and Retailers, E-commerce Sellers, Hotels and Resorts, Spokespersons and Influencers, Startups and Entrepreneurs, Health and Wellness Brands, as well as wholesalers. These clients rely on commissioned production services offered by the cosmetics factory to bring their cosmetic product ideas to life. The cosmetics factory serves as a production partner, utilizing its relevant production capacity to manufacture and produce cosmetic products according to the client's specifications and branding requirements.
Why Choose MetaCNBeauty as Your Cosmetic Private Label Manufacturers?
MetaCNBeauty stands out as a reliable and trusted cosmetic private label manufacturers for several reasons. Here's why you should consider us for your beauty brand:
Verified Qualified Factory: Our factory holds ISO 22716 certification and is also GMP certified for Good Manufacturing Practices. We specialize in assisting you in the development of fully customized cosmetic products for your makeup brand. Our expertise allows us to tailor the quality, colors, packaging, and other aspects of the products to your specific requirements. Rest assured that all our ingredients are safe and compliant with both FDA regulations and European Regulation (EC) No 1223_2009. We are committed to delivering exceptional results for your brand.
Research & Innovation: The process of ideation initiates within our innovation hubs, research and development centers, as well as design and creative facilities. Here, we foster concept development and product positioning to bring forth innovative ideas.
Custom Formulation: By integrating research and innovation with the customer's specific requirements, we craft tailor-made products that surpass expectations and align precisely with their specifications.
Filling & Assembly: Utilizing dynamic and customizable manufacturing processes, we adeptly adapt to meet precise filling and assembly requirements. This includes sourcing the required materials, conducting necessary tests, and ensuring flawless execution throughout the entire process.
Extensive Experience: MetaCNBeauty has years of experience in the cosmetic industry, serving thousands of small, medium, and large brands all over the world, such as Amway, Mirenesse, Colourpop, etc, ensuring our expertise and knowledge in producing high-quality products.
Product Quality: we are committed to maintaining the highest quality standards. our products undergo rigorous testing and meet all necessary regulatory requirements.
Customization Options: MetaCNBeauty offers a wide range of customizable options, allowing you to create products that align with your brand's unique identity and target market.
Quick Turnaround Time: With efficient production processes and streamlined operations, MetaCNBeauty can deliver your orders within a reasonable timeframe, helping you meet market demands.
Competitive Pricing: We offer competitive pricing options, ensuring that you receive excellent value for your investment.
Regulatory Affairs: Our proficiency in navigating intricate global regulatory requirements, coupled with our extensive network of industry partners, enables us to deliver unmatched regulatory compliance services.
The Process of MetaCNBeauty Private Label Manufacturing
When you choose MetaCNBeauty as your cosmetic private Label manufacturers, you'll go through a step-by-step process to bring your beauty products to life. Here's an overview of the process:
Product (Formula)Selection: Choose from MetaCNBeauty's extensive catalog or work with our team to create custom formulations tailored to your brand.
Packaging Design: Collaborate with our design experts to create visually appealing packaging that reflects your brand's identity.
Branding and Labeling: Customize product labels and branding elements to establish a cohesive brand image.
Manufacturing and Production: MetaCNBeauty's experienced team will handle the manufacturing process, ensuring high-quality production and timely delivery.
Quality Assurance: Rigorous quality control measures are implemented at every stage to ensure that your products meet the highest standards.
Product Range and Customization Options
MetaCNBeauty Cosmetic Private Label Manufacturers offer a diverse range of beauty products that you can customize to suit your brand's needs. Their product categories include skincare, makeup, haircare, body care, and more. Within each category, you'll find various options for formulations, scents, colors, and packaging. Whether you're looking for a specific ingredient or a trendy product, MetaCNBeauty can help you create a line that stands out in the market.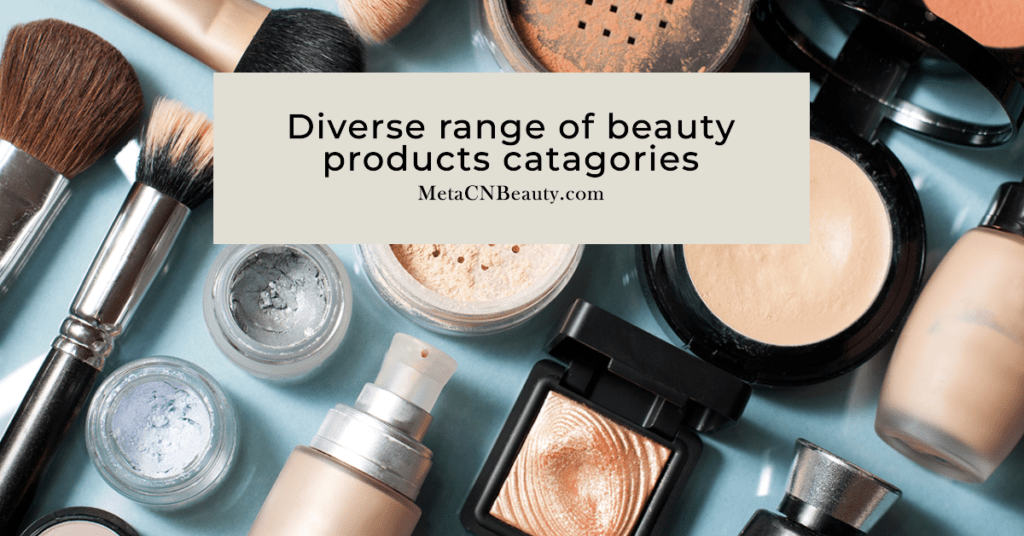 Quality Control and Compliance At Cosmetic Private Label Manufacturers
At MetaCNBeauty, quality control is a top priority. our follow strict quality control processes throughout the manufacturing journey. From sourcing ingredients to production and packaging, every step is meticulously monitored to ensure that the final products meet the highest quality standards. Additionally, MetaCNBeauty complies with all relevant regulations and guidelines, Our factory is ISO 22716 certified and complies with Good Manufacturing Practices (GMP), In accordance with the regulations of cosmetics: the Cosmetics Act for the United States, the Pharmaceutical Affairs Law for Japan. Our products also have passed the tests by ITS and SGS, according to the standard from FDA and EU cosmetics regulations, providing you with peace of mind regarding the safety and legality of your products.
Building Your Brand with MetaCNBeauty Cosmetic Private Label Manufacturers
MetaCNBeauty understands the importance of branding in the beauty industry. We offer support in building your brand identity and establishing a strong presence in the market. From custom packaging design to labeling and branding materials, MetaCNBeauty provides the necessary tools to create a visually appealing and cohesive brand image that resonates with your target audience.
Marketing and Packaging Support
In addition to manufacturing your products, MetaCNBeauty offers marketing and packaging support to help you promote your brand effectively. We can assist you with designing marketing materials, creating product descriptions, and developing eye-catching packaging that grabs consumers' attention. With our expertise in the beauty industry, we understand the importance of packaging in attracting customers and differentiating your brand from competitors.
Ordering and Pricing Information
To get started with MetaCNBeauty, you can reach out to our team through our website or contact information provided. We will guide you through the ordering process and provide you with detailed pricing information based on your specific requirements. Remember, we offer competitive pricing options without compromising on product quality, start your brand today.
Conclusion
Embarking on your journey as a beauty brand owner is an exciting endeavor, and MetaCNBeauty Cosmetic Private Label Manufacturers is here to support you every step of the way. As a leading private label manufacturer In China, we offer high-quality products, extensive customization options, and exceptional customer service. With our expertise and commitment to excellence, MetaCNBeauty can help you turn your beauty brand dreams into reality, and build your brand today.
Frequently Asked Questions (FAQs)
Can I request samples of MetaCNBeauty's products before placing a large order?
Yes, you do. there are 2 options to get samples, select our samples online and purchase them online directly, and request a sample from our team,
learn more on the sample guide here.
Are MetaCNBeauty's products cruelty-free and vegan?
Yes,we are Paraben Free,Mineral Base,Highly Pigmented,Cruelty Free,Clean Ingredients.In accordance with the regulations of cosmetics: the Cosmetics Act for the United States, the Pharmaceutical Affairs Law for Japan. Our products have been passed the tests by ITS and SGS, according to the standard from FDA and EU cosmetics regulations.
What is the typical turnaround time for manufacturing orders with MetaCNBeauty?
Basically,the lead time will be 30-45 days for larger quantities such as 12k units ,if you have small quantities will be faster around 7-15days.
Can I use my own packaging designs with MetaCNBeauty's manufacturing services?
Does MetaCNBeauty offer assistance with regulatory compliance for beauty products?
Yes,we will help you with PIF ,CPSR,provide MSDS,COA .Ingredient listing etc.
How To Work With MetaCNBeauty Cosmetic Private Label Manufacturers?