Cosmetic Packaging Knowledge — How Are Plastic Containers Made
When it comes to cosmetic packaging, the core essentials are aesthetics and ability to preserve. And plastic happen to top the test on both utility and economy. This article explores the manufacturing process of plastic containers, the different standards and components of plastic packaging used in the cosmetic industry, plus gives you a notion about different packaging trends owing to marketing, environmental impact and also identify the best suppliers.
Plastic was the primary material talked about in a 2019 study conducted by Research and Markets, that states the global cosmetic packaging market having a value of $24.86 billion in 2017, to have reached up to a value of $27.87 billion by the end of 2018, and likely to crossover $35.7 billion by the same time in 2024, at a CAGR of 5.09%. Moreover, the report emphasized on the diversity of closures, lids and caps being a key market trend, extending the scope of customization and design identity. This further brings the topic back to the significant influence of plastic that's still the largely used material for cosmetic package closures.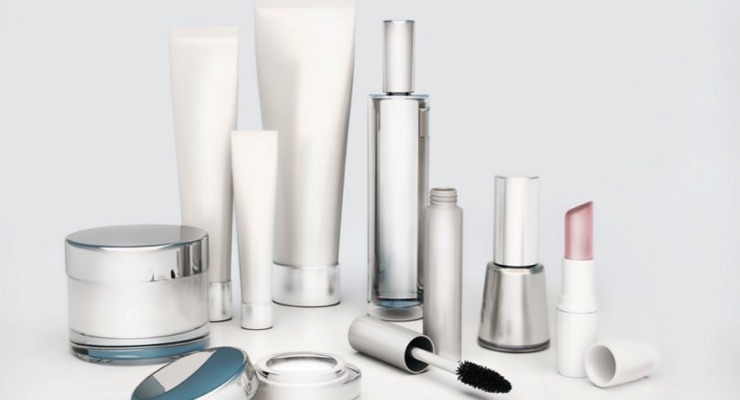 Plastic packaging continues to be of utmost significance for cosmetics and beauty products, making a consistent impact in the market, whether it's economical beauty essentials or sophisticated, luxury beauty products. And it is not likely to change on a large scale in the near future.
Plastic – The Material Used For Cosmetic Packaging
Cosmetic Packaging includes both primary and secondary packaging. And the material used for the purpose are primarily Thermosetting resin and Thermoplastic resin. Thermoplastic has greater scope of recycling, since they can be remelted and molded again. Some examples of thermoplastic include, polypropylene, polyvinyl chloride (PVC), along with low-density and high-density polythylene (LDPE, HDPE) among many others. On the other hand, thermosetting, is more rigid and irreversible in extreme heat, that can even resist thermolysis and carry chemical tolerance and immense dielectric strength. Some examples of thermosetting include melamine resin, epoxy resin and other fibre-reinforced materials. Components made from thermosetting are pretty much permanent, that are largely used for specific purpose and requirement, such as nail polish caps and those attached with applicators while and thermoplastic polymers are used at large, for flexibility. Be it liquids, cake, powder or semi-solid compounds, the thermoplastic based containers can be excellent in terms of creating crafty boxes for powder, to handy squeezable tubes foundation, creams and gels, all of which are an essential for style, and ease of usability. Moreover, PVC, PP and Polythelene containers have greater scope of cost improvisation, since cosmetic container manufacturers may also recycle old containers and improvise the overall investment.
There are diverse technologies used for molding resins into polymers and ultimately, containers and container parts like closures and ornaments. The diverse requirements of decorative and multi-purpose packaging demand a merge of different types of materials, and can hardly make peace with just one. All these variations can be substantiated by the various types of both Thermosetting and Thermoplastic resin. Hence, both are crucial for the cosmetic packaging industry.
The Process Of Plastic Container Manufacture
There's been a rapid growth of different decorum of plastic technology, that entertains and even encourage withal exaction of design, functionality and application, more appropriate for the cosmetic packaging industry.
Primarily the various methods of plastic container manufacture, used by the cosmetic packaging industry include blow moulding, extrusion blow moulding and lamination.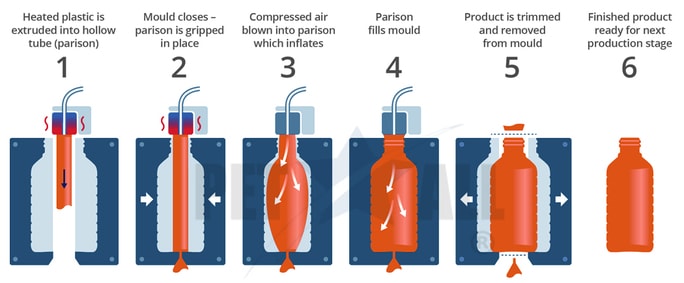 Extrusion Blow Moulding is the basic idea of plastic container manufacturing, and is largely used for crafting bottles and jars. The method involves passing a tubular form of molten plastic parison, or a preform in some cases, to shape it up in the formation of a cooled metal mold. Inside the mold, the plastic is inflated by passing air, giving it desired shape and formation. Once the plastic material has hardened, the mold is detached from the plastic and given finishing, coating and color afterwards. There are other technologies of this concept such as injection blow moulding and injection stretch blow moulding, that are majorly used for tiny bottles.
Thermoforming is another manufacturing process, used for crafting insert trays, for makeup combo packs, makeup applicators and the likes. The process involves molding heated, malleable plastic sheet with some kind of pressure, created by vacuum or mechanical reinforcement.
Sometimes, composite materials are also used, such as mufti-layered plastic, or lamination. The lamination process is rather new, and has found a significant utility over the course of a short time, especially for the manufacturing of cosmetic packaging tubes and sachets.
Identify High Quality Plastic Cosmetic Container Supplier
If you are a manufacturer of cosmetic products looking to partner with a reliable cosmetic packaging manufacturer in your country, going by the guidelines of industry standards is a substantial move.
Environmental concerns and CSR are largely becoming indispensable decorum for all sorts of enterprises nowadays, if a manufacturer adheres to the status quo, it readily makes an example of their value system, which is any day a good link-up.
Finally, you must follow the rules and regulations levied on plastic container manufacturing, such as FDA approval, ISO certification and so on. So stay under the regulated norm for a sure and stable process altogether.